To get it straight, I was actually disappointed during our visit in Lake Sebu. Hasting our butts off just to arrive on time with our itinerary only to be disappointed by several factors when we arrived in Lake Sebu.
Straight from our traverse from Cotabato City to Surallah, we did the best that we can to arrive in Lake Sebu at least within our scheduled time. It was a one fine day, the sun was up and the weather was good. We even managed to stop over the famous Grand Mosque of Cotabato City and the Pink Mosque of Datu Saudi Ampatuan of Maguindanao as they were just right on the direction to Surallah. From Surallah, we took the van heading to Lake Sebu even though the seating was almost beyond comfort just to be on our schedule.
While we were winding down the road, images that I saw online built up the sets of expectations in me. Expectations that intensified the tension I felt as I was holding my pee while cramped-up inside the van for more than half an hour. Having seen the photos and read the articles online, my soul and eyes were set to see and experience the provincial life of Lake Sebu. The waterlilies swarming and the sunset light reflecting by the placid lake water. These images kept my heart pounding as we were approaching the municipality.
But these went crumbling down when the skies turned grey and it started drizzling when we arrived in Lake Sebu. All we can ever do was to wait inside our accommodation and wait for the ever pouring rain to calm down while the sun squeezes out its remaining daylight. But staying in our accommodation wasn't bore at all. Lake Sebu School of Living Traditions is one of the accommodations and places in Lake Sebu which has the advocacy to preserve, maintain, and pass the traditions of the Tboli people to the younger generations. They educate and orient visitors with the Tboli's traditional way of living.
Meet Maria Todi. She is a Tboli and is currently the one who actively manages the family owned Lake Sebu School of Living Traditions (SLT). It was through her that I learned that not all Tbolis are weavers, nor they are all farmers nor warriors.
It all really depends on the inclination of the family. There are Tboli families more inclined in weaving, others in farming, while Maria Todi's are more in inclined in the performing arts, which includes music and dance. While we were waiting for the rain to calm down, we were gathered by Maria Todi for a quick lecture about the culture of the Tboli through music. They all dressed-up and demonstrated some on-the-spot playing of their local instruments.
Of course, we cannot let pass the opportunity to wear their traditional costume and feel like one of the Tbolis.
It was already very late in the afternoon when we finally able to get out the house and roam around the place to get to see the lake. I was surprised to see that the municipality is actually already developed. Commercial restaurants and accommodations are already popping and main roads are already well paved. Way far beyond my expected provincial life. To add to my disappointment, the sky was not in our favor that it deprived us even a slight leak of the sun's ray on its setting. Our long awaited and expected sunset view never came to realization.
But on the positive side, I felt that my time did not turn to waste. I learned a lot about the Tboli traditions during our talk with Maria Todi, and that alone is already something to be treasured as a souvenir.
Morning came, another chance to redeem from yesterday's disappointments. We woke up early hopeful to witness the blooming waterlilies by the lake accompanied by the golden glow of sunrise. Good grief! Once again, the sky was not in our favor. Instead of the sun's golden glow, we were greeted by the hovering fog over the lake.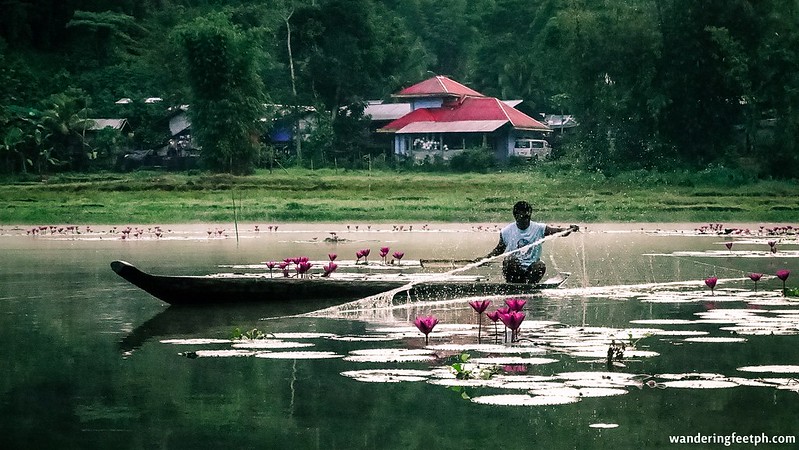 So we turned our attention to our next destination which was the Seven Waterfalls hoping to experience the exhilarating zip line. But Alas! The zip line opens by 9 AM, but nevertheless, we continued with our hike exploring the rest of the ginormous waterfalls.
We went back to Lake Sebu School of Living Traditions to prepare ourselves for departure, as we still have several places to visit for our whole Soccsksargen trip.
Though I left Lake Sebu unsatisfied, but still I can say that somehow I was able to acquire new set of learning during our short stay. Maybe we were really on the bad timing. Well, that can be enough reason to come back and maybe then, the universe will now conspire to give us what we've been looking for.
Click here to check our next destination: Lake Holon – The Reward of Patience

HOW TO GET TO LAKE SEBU:
Coming from General Santos City, take a bus (Yellow Bus Line) bound for Koronadal City (Marbel).

Fare is around 85 pesos
Takes around 1 and ½ hours.
From Koronadal City

(

Marbel

),

take another bus (Yellow Bus Line) bound for Surallah.

Fare is around 50 pesos
Takes around 30 minutes

Coming from Cotabato City, take a bus (Husky Bus) bound for Isulan.

Fare might range from 150 to 200 pesos
Takes around 1 and ½ hours.
From Isulan, take another bus (Yellow Bus Line) bound for Surallah.

Fare is around 60 pesos
Travel takes around 1 hour.

From Surallah, take a van bound for Lake Sebu

Van fare is around 40 pesos
Travel takes around 30 minutes
NOTES and REMINDERS
Most of the time, it rains in Lake Sebu due to its altitude.

Expect unpredictable weather and bring rain gears like umbrella or rain jackets

Lake Sebu is fast developing.

Streets are already paved
Several restaurants and accommodations are already popping especially at the town proper.

You can stay at Lake Sebu's School of Living Traditions to experience living under the roof of a traditional Tboli house.

You may reach them out through their facebook page: Lake Sebu School of Living Tradiitions
Or contact them through these mobile numbers: 0906-6345-367 / 0935 456 9359
They charge 350 pesos / guest.

Tour guides usually charge visitors 400 pesos per day per group of 5.

They will take you to the different spots within the municipality

Getting around the place is via motorcycle

Usually charges 10 – 15 pesos depending on the destination.

If you are planning to see the waterlilies in full bloom, witness it during mornings.
Seven Waterfalls can be reached by motorcycles from the town proper

Takes around 10 minutes
Motorcycle fare is around 20- 30 pesos per person
Entrance fee of 20 pesos will be collected per person
Seven Waterfalls Zipline costs around 300-350 per person and will start as early as 9 AM

Be sociable with the locals. Always wear your best smile.

Buying their local products can help their living.

Always remember to observe and practice LNT (Leave No Trace) principle.

Do not throw or leave your trash anywhere. Bring it with you until you see a proper trash bin where you can throw them properly.

Lastly, enjoy!

Don't forget to take the most precious souvenirs which are your experience, learnings, and of course PICTURES!